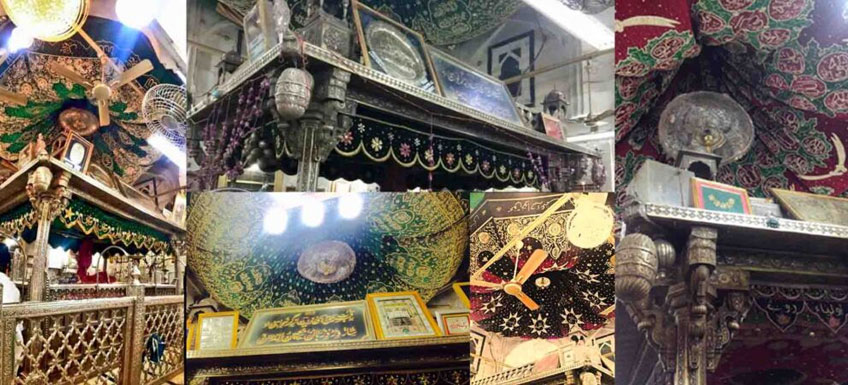 On Kabe-Sharif, the 'Gilaaf' is presented to show respect and protection. According to certain descriptions, it is known that the Hazrat Ibrahim was the first person to offer Gilaaf on Kabe Sharif.
This is Khwaja Syed Moinuddin Chishty's Shrine court (Darbar). The chadar on the Mazaar Sharif, which is presented by Khwaja saheb's worshippers, may be viewed here. It is a kind of Nazrana-E-Aqidat (Gift) that can be given to Darbar personally. The emperor Shahjahan handed the silver fence over here.
You may be rich or poor, but, the door of Ajmer Dargah is open to all. If you have a personal problem, income difficulty, any type of pain, anxieties, not able to find a way to look forward in life, evil spirit (Nazar), black magic, etc., Khawaja Garib-E-Nawaz is a world-renowned Spiritual Healer who was sent by the holy Prophet Mohammed and by the blessing of Almighty Allah Paak & Khawaja Baba, every devout individual has had their heartfelt aspirations fulfilled.
This chadar is 42 meters long and encompasses the whole Mazaar-Paak region. As a result, it is known as Mazar-paak clothing.
Along with the chadar, flowers, itre, and rosewater are also served.
On the expensive chadar embroidery works, pearl and silver wires are employed, and Yaseen-Sharif, the name of the Panjetan Paak, Macca, Medina, and Dargah are stitched on ordinary or expensive outfits.
A 42-meter chadar is being provided one by one till it gets old. Special prayers are conducted on behalf of such devotees by name, and the chadar is then kept in the Darbar's shop.
Devotees offer the chadar in accordance with their abilities. People often provide tiny chadars according to capacity, but because this is insufficient for the full Mazaar-Paak, we send them to other Mazars across the world.
You may also give the Darbar this sort of AJMER CHADAR (the dress of Mazaar Paak) on the auspicious occasion of the Ajmer Urs-Mubarak or on any other day.
We have shown some of the chadars below, which are offered by different devotees.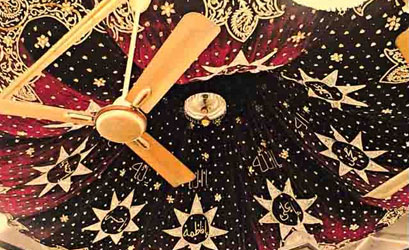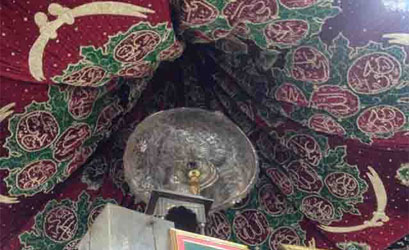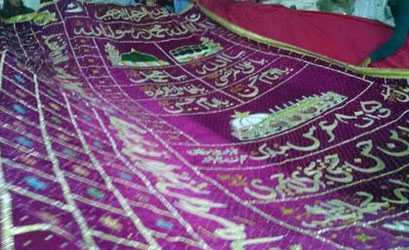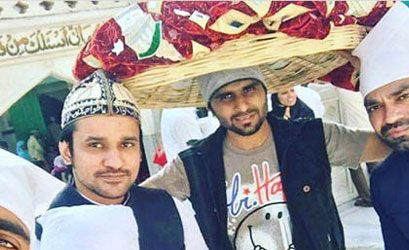 Inside the dome, there is a large umbrella on the grave.
On the sacred grave, there is one little umbrella.
(Jhalar) The umbrella is surrounded with holy names.
2 curtain rods (Curtains with Embroidery)
Shahi Chaadar 42 Mts. It's completely embroidered. It also has designs for Makkah, Madina, and Dargah Sharif.
If you can share the donation with your friends, relatives or neighbours and can offer a Chadar, Full set of Gilaaf then it will be best. This way you can jointly do a more valuable and important contribution. By such combined effort, the unity and bond between you and other members will get strong.
Whenever you want to give an offering, just write to us & we will arrange everything for you.