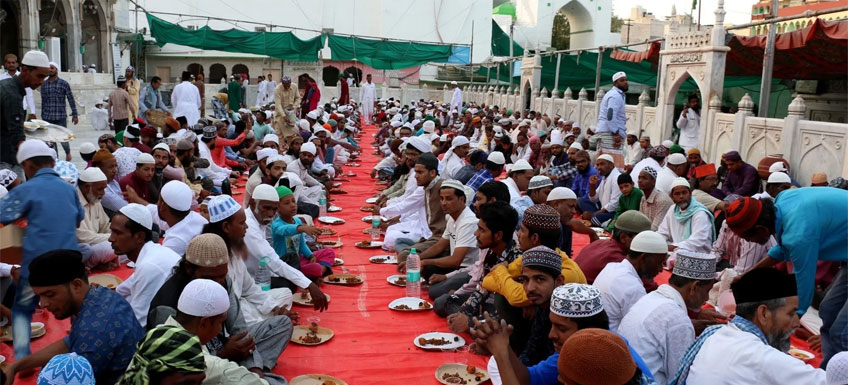 Every month we carry out a Chatti festival, according to the state of the moon. Every sixth lunar month, Fateha Chhatti Sharif's famous and inspirational programs are held in front of Begami Dalan within Ahata-e-Noor. Attendees are well aware of the solemnity and sacredness of the occasion, as well as the benefit they will get. A total of 1,40,000 rupees is required for one-time cooking.
There are two deghs in the langar, one is the Big Degh and the other is Small Degh.
Emperor Akbar presented the huge degh, which is a large device that can cook 4800 kg of food at a once.
Emperor Jahangir donated the other degh, the Small Degh, which, despite its little size, has a capacity of cooking for 2400kg at a time. The amount on one time cooking comes to be around 2400 Rupees.
Complete cooking is done by the dargah devotees.If you plan to cook Degh at any time during the year, please let us know ahead of time so that we can make the necessary arrangements. Deghs are prepared all year. It can be prepared in your presence as well as in your absence, on your behalf, or any other type of Niyaz you desire.
15kg Biryani Rice, A delightful dish made with major components like strong spices, and khassi mutton is particularly popular among Muslims. People who desire to help others by delivering food to people in order to benefit themselves for Roz-e-Mahshar they can do that. So this is the outstanding social work that can be found in Roz -e- Mahshar. Ajmer is a wonderful destination to visit since it brings together people of all castes and faiths at one table where they may feed them and get good blessings of the lord.
We remind everyone over the entire globe, that the Chhati Sharif period is the time for everyone to get together and show their love and admiration for Khwaja Baba. This is to notify you that the Niyaz of Hazrat Khwaja Syed Moinuddin Chishti is conducted every 6th lunar month. Niaz & Langer is held by individuals who aim to participate every month according to their capabilities. Please contact us at +91-9587298146 or +918107021795.
15kg Tahari is light and easy-to-digest meal prepared using simple and easy components like rice and vegetables.
We arrange dinner and lunch for poor people and pilgrims at the time of special occasions like Ramzan, Moharram & Urus, etc. We invite all from every part of the world, people from every religion, gender, culture, faiths to take benefit of this divine moment.
We invite you all to the holy festival of Chatti Sharif. Not only you, we invite everyone from every part of the world and every year we have many visitors from different parts of the world for this celebration. Niaz & Langer is made up of members who intend to participate every month according to their capacity.
The proper way to perform Gharib Nawaz ziarat is to use authentic khuddam
Only the Chishti family has the power to do this noble work, according to Karam of Khwaja Sb.